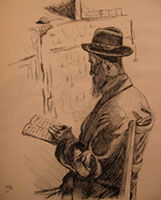 Welcome to the online gallery of fine artist, Jesse Wall. Thank you for visiting! Please visit our Gallery section to view the current selection of artwork. Please note that the painting images on this web site are close to, but not equal to, the color quality of the originals. There is no comparison when it comes to viewing the originals, but hopefully the digital images are enough to spark your interest. Enjoy the tour and please return often to see new work as it is added frequently.
If you find a particular piece in the gallery that you love, but is labeled "SOLD" or "NFS" please inquire about our Museum quality giclée prints. These limited edition reproductions are of the highest quality, and are a fine way to still purchase an image if the original is no longer available. Please visit our Prints page to find out more information regarding pricing and ordering.
September 12, 2011
SAVE THE DATE: I am pleased to announce that I have been asked to show a body of work for the month of October at Hope.Gate.Way in Portland ME.  The show will open for First Friday on Oct 7th at 5pm.  Please join me that evening for refreshments as I will be displaying some unseen work as well as a few favorites.  Hope.Gate.Way is located at 185 High st, just down the road from the Eastland hotel.  They have a gorgeous space for displaying artwork, I look forward to seeing you there!
March 29, 2011
LAST MINUTE NEWS! I have been asked to show several pieces for FIRST FRIDAY this week (4/1) at Hope.Gate.Way. located on 185 High Street, Portland, ME 04101. The pieces that are being shown have previously been viewed at my last two shows, but if you couldnt make it or just want to see them again I'd love for you to stop by. The show will be from 5-8pm and will be up all month for those hoping to view them another day.
May 2, 2010
SAVE THE DATE! I am excited to announce that on Fri June 4th, I will be showing a new body of work unlike anything I've ever shown before at Bridge Gallery at 566 Congress St in Portland, ME. Please come out and join us for the First Friday artwalk show opening!! Doors open to the gallery at 5pm and will close at 8pm. If you cannot attend on Fri, please stop into the gallery during June as the show will be displayed all month.
A big thanks to Gary Pearlmutter and Rhonda Pearle from bridge Gallery for selecting me to show this month! please visit their site www.bridgegalleryportland.com to see their work.
January 28, 2010
A great start to the new year! Jesse Wall Fine Art is proud to announce our sponsorship of the Greater Portland YMCA's 1st annual Strongest Man & Woman event!  We believe that Local businesses KNOW Local Strength, and are proud to partner with the Y for strong families and strong arts.
Also, a second printing of the 06-09 collection books has arrived!!  If you missed out on the chance to own one of these gorgeous hardcover books displaying 22 original works then now is your chance.  They are $55 (shipping not included).
Please visit again soon as we will be announcing an upcoming show soon, and posting new works to the gallery.
December 22, 2009
Jessewall.com would like to wish everyone a Merry Christmas this year!  Thank you so much to all of the people who believed in my work enough to give it a home!  (Also a big thank you this year to Streamline Media Studios for all their help with the site.)  Please look forward to upcoming shows and openings in the new year, as well as new paintings added to the site!! 
As a side note, the "Jesse Wall Collection" books have SOLD OUT!  High demand has caused the need for more to be printed, hopefully available in January.  They are 55$ regularly, but if you PREORDER yours before Jan 20th the cost is only 47$!!!
Have a great and safe holiday season!  My best to you all.  IHS, Jesse
December 13, 2009
Merry Christmas!!

I have some really cool news to announce (especially if you're stumped for Christmas shopping and need something unique.)  Ive just finished compiling an art collection book of 22 original works of mine from 06-09.  If you've thought about owning any of my work, but haven't been able to decide on which one, this is a great opportunity to own them all!
The books are hard cover, high quality photo books displaying 22 paintings in full detail and color.  The clarity and full page printing is awesome!  They make a perfect gift for Christmas for the art fan, or a great coffee table book for the office or home.  There are VERY limited supplies, but I may consider printing more if demand is high.  The price of the book is $55, which is really low considering you cant own 2 small prints for that price!

Here's wishing everyone a bright and cheerful holiday :)

October 31, 2009
Two new paintings have been added to the gallery! They are now available also in limited edition giclee museum prints.
October 12, 2009
The Yarmouth Art Festival was a great success, thank you to all of my supporters and collectors who showed up to enjoy the evening with us!
October 11, 2009
I've had 5 paintings selected to appear in the Yarmouth Art Festival! It will be held at St. Bart's Episcopal Church at 396 Gilman Rd, Yarmouth, ME. The festival is 3 days: the artists reception will be Thurs night the 15th from 6-9pm, refreshments will be served, and this will be your best chance of meeting the artists in the show. I plan to be there and would love to see you all. The other 2 days are Fri and Sat (16th & 17th), Fri is from 10am-7pm and Sat is until 5pm.
The pieces that I'm showing are:
The Mirror
In Hiding
Still Day
I've Been to Santa's House
Ponte Vecchio de Notte

August 7, 2009
Gallery opening! Please come join us at Stones & Stuff for a 16 piece exhibition, displaying pastels by Jesse Wall. The show is titled "Redefining the Self-Portrait," as it encompasses the artist philosophy on his work. The show begins at 5pm, and is located at 556 Congress St  Portland ME. The show will run thru 8/30.

July 6, 2009
JesseWall.com launches today! Thank you to all who take the time to visit and view my work. I hope that it touches you and provides a great window of opportunity to learn about yourself. I'd like to especially thank Streamline Media Studios for making the web launch possible!  A fantastic company to work with, Kate Morton runs a great ship. THe biggest thanks of all goes to all of the amazing people in my life who've supported me in this endeavor and dream, you're the inspiration for my work.